Bespoke Japanese skin care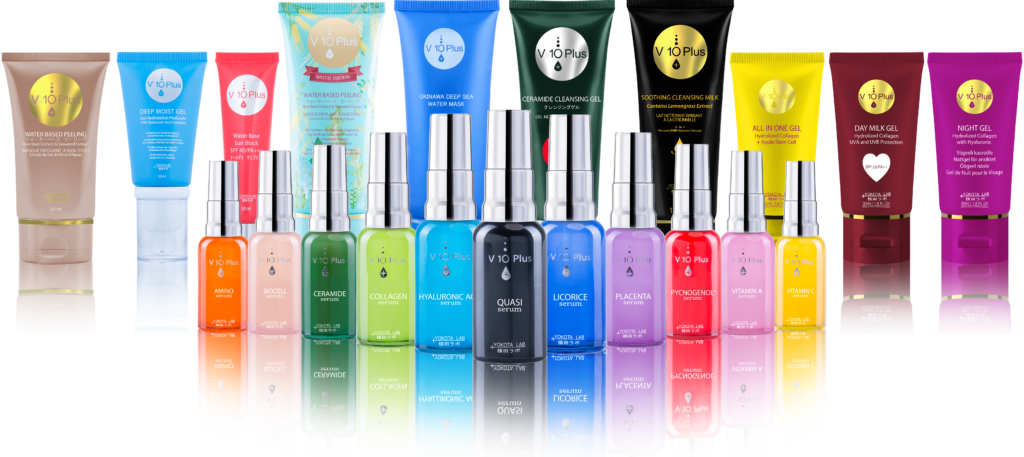 Most common skin problems are caused by pollution, UV rays and especially the stress of our daily lives; they are practically unavoidable and concern us all.
The V10 Plus range is the perfect solution to these skin problems and signs of aging. With the self-evaluation questionnaire, consumers determine which of the specific serums to use according to their skin type and particular needs. The serums come in colourful dropper bottles. A rainbow of colour therapy that enables an easy-to-use, bespoke solution for dryness, irritation, age spots, blemishes and sagging skin, etc.
In an array of colourful tubes V10 Plus offers a daily skin care ritual including the Cleansing Gel, the Cleansing Milk, the replenishing Okinawa Deep Sea Water Mask, their famous Water Based Peeling with rice bran that gently exfoliates, the Deep Moist Gel and the indispensable Water Base Sun Block that protects the skin while letting it breathe.
The range includes:
10 serums and 1 intensive brightening serum
Ceramide Cleansing Gel
Water Base Sun Block
Water Based Peeling
Soothing Cleansing Milk
Okinawa Deep Sea Water Mask
Deep Moist Gel
Day Milk Gel
Night Gel
LX Advanced Lifting Treatment Cream
LX Advanced Eye Treatment Cream